FEATURED POST
Let's make Mother's Day more than just 1 day a year!
A friend told me she woke up today with the desire to throw plates. And no she's not Greek and this is not for a celebration. When was the last time you put YOU first or even on the list for that matter? We are always caring for our kids and family needs that we don't take enough time to step back, take a deep breath and take care of ourselves. My 10-year-old son recently had to point out that I needed an upper lip wax, which is unacceptable on so many levels..
Subscribe To Our Newsletter
Memorial Day Grilled Chicken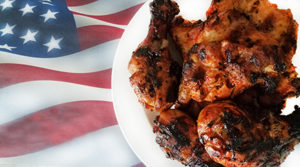 Hey busy moms/dads/caregivers!
What a better way to kick-off the start of summer than with a backyard BBQ on Memorial Day weekend. I love grilling in the summer. Besides the obvious reasons of being outdoors, in the sun, enjoying the long days and warm nights, grilling is a busy mom's break from hours in the kitchen. I marinate whatever we are going to eat ahead of time and then when it's time to grill, I hand it all over to the hubby to grill, while I relax outside with a glass of wine.