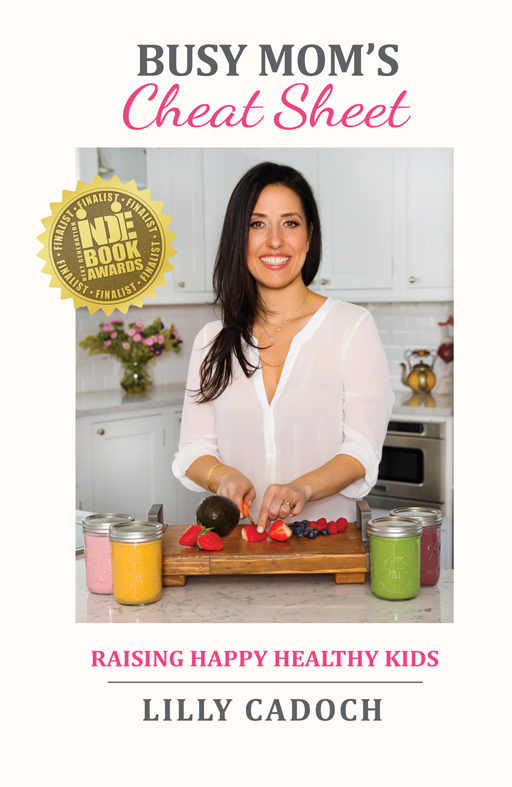 I am beyond excited to share my first parenting book called "Busy Mom's Cheat Sheet: Raising Happy Healthy Kids" that was released in July 2016, available now on Amazon. Over the past two years, I've educated myself on nutrition and mindful living for myself and my family while working full time and I can't wait to share all of my hard work with all those busy mom's/caregivers out there.
In my book, I share 6 easy to understand lessons from healthy eating, exercise, and sleep to gratitude, positive thinking and meditation. And as a bonus, I also include 45 healthy recipes that are quick, easy, delicious and big hits in my family.
My goal was to make this book your go to easy reference for how to teach your kids how to have a healthy body, how to have a healthy mind and give them the tools to best succeed and handle life's inevitable challenges.
To order your copy of Busy Mom's Cheat Sheet from Amazon click here.
Here are all the details starting with the new book launch video.
Busy Mom's Cheat Sheet Launch Video

What's inside! 
Table of Contents
Introduction
Body
Lesson #1: Drink water, and lots of it.
Lesson #2: One of the most valuable things you can teach your kids is how to read a food label.
Lesson #3: Teach your kids to go beyond the nutritional label and understand listed food/ingredients.
Lesson #4 Teach your kids healthy eating habits from an early age.
Lesson #5: Exercise: Get your kids involved in physical activity early on.
Lesson #6: Ingrain in your kids from a young age that sleep is a good thing.
Mind
Spirit
Conclusion
Appendix: 45 Recipes

What Other Busy Mom's are Saying
 "This book is a must read if you want to figure out how to raise children that are healthy in all aspect of life. From food to exercise to meditation, Lilly gives amazing advice that kids can easily integrate into their life"
                       Rivka F – Author of "Winning The Weight Loss War" and mother of three
"Lilly's Book gave me great practical advice on things such as food selection and living with gratitude. As a working mom of three, it's not always easy to remember to be grateful. I especially loved the section on positive affirmation that were great conversation starters in my family"
                      Holly H – College professor and mother of three kids
"As a busy mom on the go with a toddler and an eight year old, I found this book to be a great guide to help me keep my kids mindful and healthy. The breakdown of ingredients was very helpful for me especially since I commute an hour each way to work, this info kept the guesswork out of giving my family a healthy dinner."
                      Joanna S – Recruiter and mom of two kids
"If you are a mom looking to make healthy choices for your kids but restricted by time, this is the book for you! It is packed with information, has great tips and healthy recipes and very easy to read and implement."
                      Bridget A – High school teacher and mom of three kids
"Busy Mom's Cheat Sheet by Lilly Cadoch is an uplifting book…The author handles the topic of body, mind and soul extensively in a manner that can be comprehended by any reader…I found the tips, techniques and ideas in the book easy to incorporate into daily living…The book addresses the importance of mind, body and spirit and how balancing them will help us achieve enriching and fulfilling lives."

ABOUT THE BOOK
Body 
Busy Mom's Cheat Sheet will arm you with the information you need to teach your children how to understand & utilize proper nutritional information and practices to use in their everyday life        
Mind
You will learn how to teach your children to reprogram their mind for optimal mental health and success.
Spirit 
Help your kids achieve their life's purpose by tapping into spirituality.
To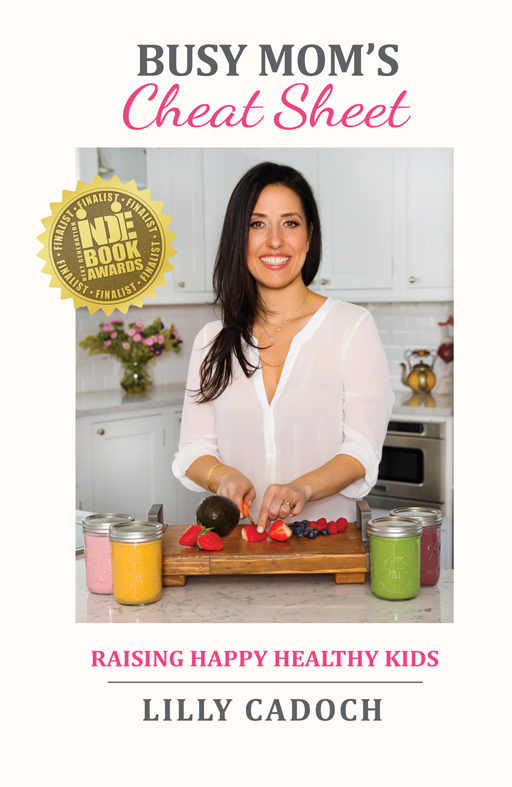 order your copy of Busy Mom's Cheat Sheet from Amazon click here.
Busy Mom's Cheat Sheet is also available at Turn of the Corkscrew bookstore in Rockville Centre, NY and at Book Soup in West Hollywood, California.