I started gardening last summer and, fortunately, have had an abundance of zucchini. Here is a pic from my first zucchini harvest this summer!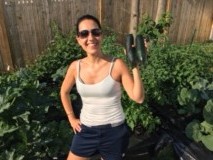 My kids are pasta-lovers, so instead of making the traditional spaghetti dish, I was able to cut out half of the carbs in this dish by spiralizing zucchini with the pasta. The more I made this dish and got the kids accustomed to eating zoodles, the more receptive they have been to me reducing and even omitting the pasta and increasing the zucchini portion of this recipe.
Zucchini is a great source of vitamin C, manganese and fiber. It is also a good source of B vitamins and calcium. It's high water content makes it hydrating which is great especially in the summer months. Zucchini is a very low calorie food but keeps you full due to its high water and fiber content, so helps with weight loss too.
When purchasing zucchini, make sure to chose ones that look smooth and firm with bright-colored skin. Store zucchini in perforated plastic bags inside a refrigerator drawer and use within the week.
Preparing a healthy dinner for your family can be stressful, but it doesn't have to be. This recipe is fast, easy and pleases even the pickiest bellies in my house.
By the way, did you know that Zucchini is a fruit? I just learned that while writing this blog…
Yields 1-2 servings
Ingredients
Spaghetti, enough strands to be the size of a quarter
1 Zucchini, spiralized into spaghetti-like strands
Dash of garlic powder
Dash of salt
1 tbsp. olive oil
Parmesan cheese, to taste
Directions
Spiralize zucchini into spaghetti-like strands. The one I use can be found on Amazon here.
Saute spiralized zucchini in olive oil for 4 minutes and remove from heat.
Cook pasta as directed.
Mix in cooked pasta into pan with zucchini.
Add garlic powder, salt and Parmesan cheese to taste
Garnish with basil leaves (optional)
Serve immediately.