I just started gardening last year and my most fruitful crop both seasons has been zucchini. Look at how many zucchini's I came home to after being out of town for a little over a week!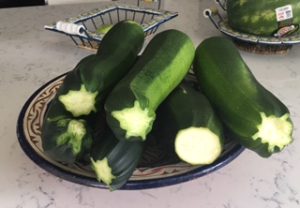 With my surplus of this versatile summer crop, I was busy figuring out different recipes so that my kids wouldn't get tired of the same ol' zucchini a few times a week. Zucchini zoodle pasta has become a staple in my house and my go-to when I have to whip something up quickly.
Today, I'll be sharing a family favorite recipe for Zucchini Corn soup.  You might be thinking, soup in the summer? Yes! This soup is so light, fresh and tasty, not only will you love it in the summer, you will want to make it all year long.
Zucchini is a great source of vitamin C, manganese and fiber. It is also a good source of B vitamins and calcium. It's high water content makes it hydrating which is great, especially in the summer months. Zucchini is a very low calorie food but keeps you full due to its high water and fiber content, so helps with weight loss too.
When purchasing zucchini, make sure to chose ones that look smooth and firm with bright-colored skin. Store zucchini in perforated plastic bags inside a refrigerator drawer and use within the week.
The other veggies in this recipe are corn and carrots. Corn is a good source of vitamin B, magnesium and fiber. The corn adds crunch and sweetness while the carrot in this recipe adds a bit of sweetness to the broth. Carrots are low in calories and contain an impressive amount of vitamin A, providing more than 200% of your daily requirement in just one carrot.
I garnish this soup with feta cheese which adds a touch of creaminess and saltiness to offset the sweetness from the corn and the carrot.
Let's get cooking!
Yield: 3-4 servings
[ingredients title="Ingredients"]
2 tbsp. olive oil
1 large onion, chopped
1 clove garlic, minced
2 medium size zucchini, cubed
1 carrot shredded
1/2 cup cilantro
1 quart vegetable or chicken broth
Feta cheese, crumbled
[/ingredients]
[directions title="Directions"]
Sautee onion in olive oil until translucent for 3-4 minutes
Add garlic, sauté another minute and cube the zucchini 
Add cubed zucchini and shredded carrot to pot and sauté for 3 minutes
Add 1 quart of broth and 1 cup sweet corn to the pot
Bring to a boil
Reduce heat and let simmer for 10 minutes
Add chopped cilantro during last minute of cooking
Serve with crumbled feta (1 tsp. per bowl)
[/directions]