Hi loves!
With Valentine's Day right around the corner, how can you not indulge in a little something sweet? While I love to cook, I must admit I don't make sweets too often, mainly so that I'm not so tempted to eat it until it's all gone. On Valentine's Day weekend, I like to make something with the kids to create those fun memories with them and teach them to make healthier chocolate alternatives that still taste great.
These recipes are the healthier versions of the classic favorites without sacrificing on taste so you can literally have your cake (or in this case pudding and cookies) and eat it too!
Decadently Healthy Chocolate Pudding: Sometimes you just need a quick and painless way to satisfy your kid's sweet tooth without giving in to the junk aisle. This chocolate pudding recipe doesn't contain any refined sugar and gets its natural sweetness from bananas and maple syrup.
Chocolate Chip Cookies: Who doesn't love the classic favorite chocolate chip cookie? This recipe is made with whole wheat flour and contains no refined sugars, artificial colors or flavors like a lot of the store bought cookies.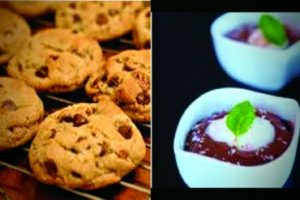 To health, happiness, and sweets!
Xo,
Lilly