When the temperature starts to drop, there is nothing like a bowl of hot soup to warm you up! I love making this Butternut Squash soup and it make it regularly for my kids in the fall and winter. This creamy vegan soup is full of antioxidants, a great source of vitamin A and C and a good source of fiber.
Did you know that Butternut Squash is technically a fruit? In my second season of gardening, we added Butternut Squash as a new addition and are really enjoying the fruits of our labor, pun intended!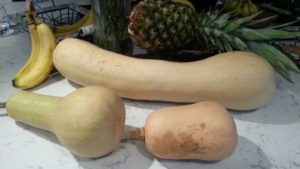 Check out the 9.4 lb., 24 inch squash I picked this week. I can make soup for the whole neighborhood with this one!
Cheat sheet tip: To make prep easier, either buy squash pre-chopped or roast it first to make it easier to remove the pulp.
Watch my video demo making this soup. Written ingredients and directions are listed below.
Yield: 4 servings
[ingredients title="Ingredients"]
2 cups cubed butternut squash
1 onion
1 carrot
1 celery stalk
Pinch thyme
Pinch sage
Cilantro (a handful)
2 cups cooked garbanzo beans (if canned, rinse first)
4 cups chicken or vegetable broth
1 tbsp. coconut oil (cold pressed)
1/2 cup light coconut milk
Salt & Pepper to taste
1/8 cup roasted pumpkin seeds (optional)
[/ingredients]
[directions title="Directions"]
Sauté vegetables in coconut oil 3-5 minutes, starting with onions, then adding remaining veggies.
Add broth and bring to a boil.
Simmer until vegetables are soft.
Add 1/2 cup coconut milk.
Simmer on low heat for additional 20 minutes.
Blend.
Garnish with roasted pumpkin seeds
Eat.
[/directions]
If you want to get more recipes, inspiration and tips delivered to your inbox, sign up for my free newsletter.